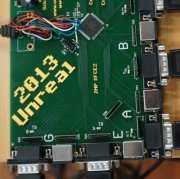 Inception specification
Support 8x joysticks for multiplayer games
Support 8x PS2 PC mouse
C64 mouse emulation
Easy plug to one joy port ( no user port )
Automatic detection
JOY info diodes on the board
External math coprocessor 40 Mhz
Complet SDK download here
Ray say : Incpetions doesn't include real math coprocessor, but it includes HCS08 Freescale CPU running @ 40MHz (core speed) with basic math functions eg. multiply and divide.
8x8 multiply takes 10 cycles
16/8 division takes 12 cycles
16x16 multiply takes (routine) aprox 400 cycles (32 bit result)
32+48 add (par of MAC) takes 200 cycles
So, compare to c64 which runs 40x slower...